CONTACT ALLERGIES TO FRAGRANCES AND COSMETICS: WHAT IS IT?
Contact eczema, along with respiratory and food allergies, is also a very common condition triggered by allergic reactions. Such eczema is triggered by direct contact with substances on the skin; up to 7% of the population is affected. The symptoms can manifest as rough, reddened, or scaly skin and itching. If contact with the allergen is prolonged, blisters, nodules, and painful skin cracks may occur.
The symptoms are usually confined to the site of contact between the skin and the triggering substance. However, in severe cases, there may exceptionally be scattering effects and eczema may occur in other places. Such reactions can be triggered by a wide variety of substances. Metals such as nickel, contained in costume jewelry, or cobalt chloride (leather processing) are particularly common.
Facial eczema due to contact allergy to fragrance in aftershave
Occupational substances such as cement (chromates) are also possible triggers. Natural plant-based substances can also trigger such reactions. Detergents and cleaning agents also often contain fragrances that can trigger such allergies. Substances that trigger contact allergies are usually very small (molecular weight of < 500 Daltons), i.e. much smaller than the allergenic proteins in pollen or food allergies. Often, these substances only become allergy triggers when they bind to proteins and are also called haptens. After nickel, certain fragrances are the most frequent cause of contact allergy: today, such fragrances are among the 5 most important triggers of contact allergies. In a recent study, the fragrance hydroxyisohexyl 3-cyclohexene carboxaldehyde was identified as an important sensitizer. Increased contact allergies to fragrances contained in disinfectants were also found – undoubtedly a consequence of the hygiene measures taken as a result of the Covid-19 Pandemia. More than a hundred thousand people in Switzerland are allergic to such fragrant substances.
Especially in the last few years, such fragrance allergies have increased rapidly. Especially in the area of the eyelids, a not inconsiderable proportion is triggered by contact allergies to fragrances. Especially in children and adolescents, fragrance allergies have multiplied since the cosmetics industry discovered children as a market and e.g. perfumes are already frequently used by adolescents. However, fragrances are also added to sunscreens, bubble baths, and sometimes even food and can trigger such contact allergies, especially in children. Up to 13% of all young people today are affected by fragrance allergies. Such fragrance allergies in children are also increasing rapidly in countries on other continents, as a recent study in Brazil showed. Furthermore, contact allergies to the group of substances known as methylisothiazolinone, or MI for short, are a growing problem. MI is considered a substance with particular allergenic potential – the risk of skin irritation is therefore high. For a long time, MI was mainly used together with the preservative methylchloroisothiazolinone (MCI). MCI is already being used much less because of its known allergenic potential. MI, on the other hand, is used as a preservative in a variety of consumer products, cosmetics, and many skincare products.
Sensitisation occurs primarily through cosmetics, little through other products. MCI/MI plays an important role not only as a contact allergen but also as an aeroallergen. These substances can be found in skin creams and body lotions of all kinds, shampoos and other hair care products, soaps, sun protection products as well as shower gels and bubble baths. It is also found in household products such as fabric softeners, dishwashing detergents, cleaning liquids, water-based paints, water-soluble wall paints (emulsion paints), as well as polishes and wood care products. Since contact allergies to MI/MCI are unfortunately rapidly on the rise, a comprehensive declaration of their occurrence in the substances mentioned is of great importance.
CONTACT ALLERGY: WHAT HAPPENS?
Upon appropriate contact, an allergic reaction is initiated on the skin, mediated by cells of the immune system (T-lymphocytes). Within a few hours to a few days, redness, small itchy blisters, itching, and swelling occur at the site of application. If the course is prolonged, scaling and coarsening of the skin relief will also occur. If the contact is interrupted, the symptoms usually disappear within a few hours or days. If the contact lasts for a long time, the eczema can become independent, which means that the eczema continues to exist for some time even after the contact is discontinued. In individual cases, an infection with suppuration of the skin change can also occur, as is observed not so seldom, for example, when using earrings with a nickel allergy.
Most important contact allergens in order of frequency
– Nickel
– Fragrance mix
– Peru balsam
– Thiomersal
– p-Phenylenediamine
– Cobalt
– Potassium dichromate
– Rosin
– Thiuram mix
– Mercury amide chloride
– Neomycin sulfate
– Paraben mix
An acquired contact allergy cannot be eradicated by treatment but is persistent for many years. However, if it is possible to avoid contact with the allergen, the eczema can remain healed. In principle, people are allergic to only one chemical at a time – the allergy is antigen-specific – but cross-sensitivity may be present: for example, a patient with eczema may react to a chemically similar substance even if it is encountered in a completely different product.
For example, a patient may become sensitised to the black dye (p-phenylenediamine) in a hair dye product, and later the eczema may flare up because of the related structure p-aminobenzoic acid in a sunscreen. In contact allergies to perfumes and cosmetics, these symptoms can be very discrete, especially in the early stages. Occasionally, there is often only mild redness and itching. In cases of severe contact allergy, however, massive redness, swelling and oozing can be observed within a few hours after application.
Allergenic fragrances such as cinnamaldehyde, iseugenol contained in Peru balsam, or turpentines are added to many cosmetics and body cleansing products nowadays. Furthermore, cosmetics and hairdressing products such as hair dyes or shampoos may contain allergenic substances. It is important to distinguish between substances that remain on the skin ("leave-on products"), e.g. creams and lotions. On the other hand, there are products that are washed off, such as shower gels or hair shampoos (rince-off products).
People who are allergic to fragrances or have very sensitive skin do not have it easy at all. A review by the magazine "Öko-Test", for example, showed that 22 of 25 brand-name perfumes tested contained at least one allergenic fragrance (ÖKO-TEST 12/2002 p. 52- 561). In addition, fragrances can even be contained in food, drinks, and tobacco. Even toilet paper is sometimes "enhanced" with such fragrant substances.
Since 1 July 2004, 26 allergenic fragrances must be declared on the packaging of cosmetics throughout the EU. 18 Fragrance ingredients are naturally occurring components of many essential oils, but are also synthetically produced for conventional fragrance mixes.
These are:
Linalool, Limonene, Farnesol, Citronellol, Benzyl Cinnamate, Benzyl Benzoate Anise Alcohol, Isoeugenol, Geraniol, Eugenol Coumarin, Citral, Cinnamal, Cinamyl Alcohol, Benzyl Salicylate, Benzyl Alcohol, Oak Moss Extract, Tree Moss Extract*.
Eight of these substances can only be produced synthetically, i.e. petrochemically: Amylcinnamal, hydroxycitronellal, amylcinnamyl alcohol, 4- (4-hydroxy4-methylpentyl) -3-cyclohexenecarboxaldehyde, 2- (4-tert-butylbenzyl) propionaldehyde, hexyl cinnamaldehyde, methyl heptine carbonate (2-octinic acid methyl ester), 3-methyl-4-(2, 6, 6-trimethyl-2-cyclohexene-1-yl)-3-butene-2-one.
(*classified by allergy specialists as particularly frequent allergy triggers).
Of course, the concentration of these substances also plays a role in the development and triggering of allergies. In Switzerland, a growing number of products can be purchased with the SAS seal of approval (Service allergie suisse; www.service-allergie-suisse.ch). The cosmetics and body care products marked in this way are free of the fragrances mentioned. In addition, patients with atopic dermatitis, which occurs frequently with an atopic predisposition, are particularly at risk of fragrances irritating the skin or triggering allergies and are therefore dependent on suitable skincare products. The skin of patients with atopic dermatitis tends to be itchy and dry and is often very sensitive to substances that irritate the skin, such as soaps or disinfectants and especially the fragrances and preservatives added to them. Neurodermatitis affects up to 8% of the population, and up to 15% of children.
HOW DO I KNOW IF I HAVE A CONTACT ALLERGY TO PERFUMES / COSMETICS?
Firstly, the observation of corresponding symptoms such as redness, itching, blistering on the body area, and small blisters on the area of the body affected by the application of perfumes or cosmetics is an important clue for the diagnosis of a contact allergy to perfume. It is especially when such changes occur repeatedly during the use of the hygiene product that a contact allergy should be considered a contact allergy.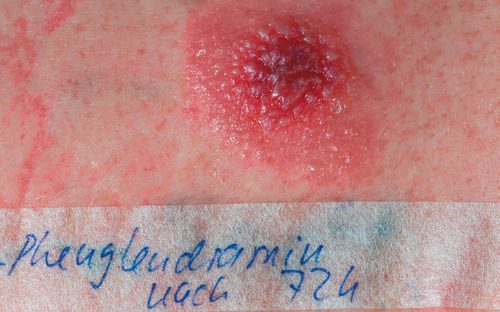 Positive reaction to para-phenylenediamine
(in case of contact allergy to hair dye)
To confirm a fragrance allergy, it is a patch test is necessary to confirm a fragrance allergy or patch test. During this test, the corresponding substances are applied on the skin for 24 to 48 hours using a patch skin for 24 to 48 hours with the help of a patch on the back. In case of an allergic tendency to the test substance, a slight eczema but often clearly visible eczema appears under the patch. visible under the patch. These reactions increase 24 hours after the removal of the patch. In order to evaluate this test correctly, it is, therefore, necessary to plan a medical visit when the patch is placed and another after 2-4 days or even a week. patch and another one after 2-4 days or even a week. These patch tests can be carried out with standardised test series such as the perfume series, the hair product series, etc. of hair products, etc. In addition to this, it is also possible to test the body care products at the same time. At the same time, it is also possible to test the body hygiene products and the perfumes used by the patient. If such a test proves positive, an allergy If such a test is positive, a corresponding allergy document and information on the presence of the offending substance are given to the patient.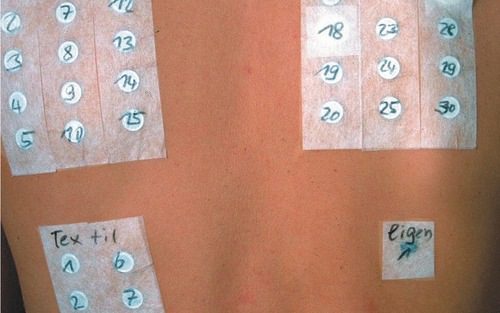 Test plates are stuck on the back for clarification in case of late-type allergy (patch test)
As the declaration of the presence of such cosmetics and odoriferous substances is not always sufficient, patients can also assess their tolerance with the help of Use or Summation tests (ROAT test: REepated). or summation tests (ROAT test: REepated = repeated open application test). For this purpose, the offending substance is applied for 3 consecutive days to the same, ideally marked area (e.g. inside the forearm or elbow). If eczema appears in this area, the probability of a corresponding contact allergy to this substance is very high. But if the substance is well tolerated, there is no contact allergy at least at the beginning of the application.
HOW TO TREAT A CONTACT ALLERGY?
The first step in treatment is to avoid the offending substances. This is why a declaration of allergens is very important in order to avoid products containing these substances in the future. containing these substances. Ideally, potentially allergenic substances should be avoided in substances in cosmetics, body care and hygiene products should be avoided or at least correctly at least declared correctly. In case of acute contact eczema with an unknown allergen, the application of soothing measures such as warm tea-bag compresses tea bags is necessary. In more virulent cases, the application of anti-inflammatory substances such as local cortisone creams is useful. In the most severe cases, acute treatment In the most severe cases, the acute treatment involves the occasional administration of cortisone for internal use.
However, this treatment can be suspended a few days after the removal of the offending substance, as the absence of the allergen should lead to recovery. In the case of occupational exposure to cosmetics, contact with these substances should be strictly avoided. This requires, for example, the wearing of gloves or even the reorientation if it is not possible to avoid these substances sufficiently – for example substances – for example in the case of hairdressers or in the cosmetics sector. Suspension of contact with the relevant substances always leads to the healing of contact dermatitis after a certain period of time. But it is important to make sure that this eczema does not turn into an allergy. That is why cosmetic products should not contain any allergenic substances, if possible.
Ideally, potentially allergenic substances should be avoided or at least declared. potentially allergenic substances. In all other cases, the only option left to the In all other cases, the only option left to the fragrance-allergic patient is an involuntary allergy test the patient is forced to try a new product at random, hoping that it will not cause any harm. He or she is forced to try a new product randomly and hope that it does not contain any allergenic substances. But if he is unlucky and the product does contain such substances, there will be an unpleasant result, a unpleasant result will be a new outbreak of eczema. In order to avoid these extremely unpleasant empirical tests as much as possible, a corresponding declaration of possible contact allergens is very important. important. In this respect, possible quality labels such as the "aha! " label (www.service-allergie-suisse.ch), which has proven to be very successful, can be a great help to patients.
On the one hand, these certified cosmetics may not contain any of the 26 potentially allergenic fragrances. allergenic substances. On the other hand, other ingredients that may trigger an allergy must be declared in detail. Fortunately, the number of certified products is constantly increasing. 115 certified cosmetic products and 10 certified cleaning and laundry products from various suppliers will be available in spring 2019.